After just two days of play, only three players have a maximum score at the Open Grand Swiss. In the Women's event, two duos of Georgians and Chinese lead the group of altogether seven players with a maximum performance after the second round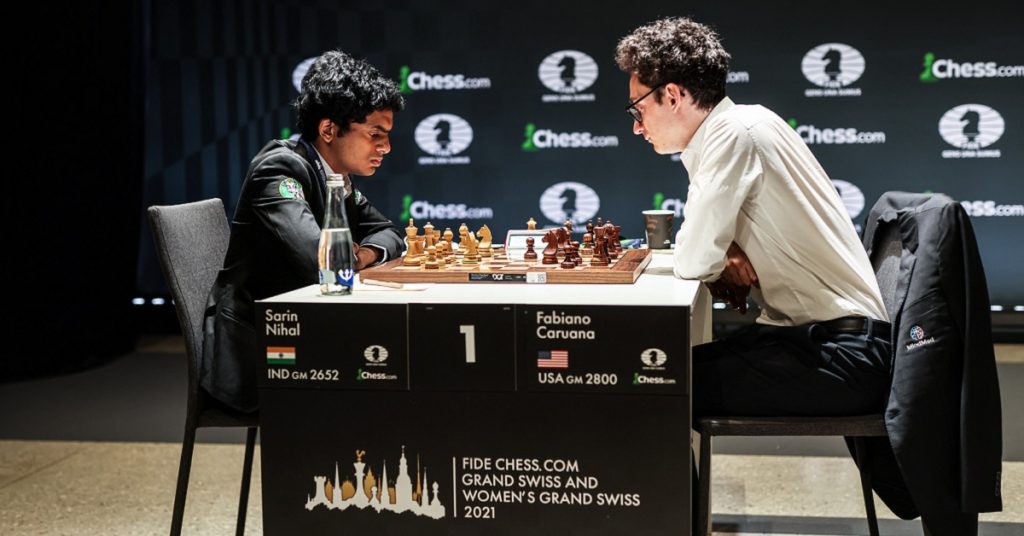 Croatian player Ivan Saric cruised to the top of the scoreboard after winning in the second game in a row. Kirill Alekseenko's choice of a rare line in the Marshall Attack backfired as Saric managed to neutralize Black's initiative and emerged with an extra pawn. In an opposite-colour bishops were no help for the Russian as the Croatian promptly won a second pawn forcing Alekseenko's resignation. Ivan Saric will play Fabiano Caruana in Round Three.
In a fantastic game on board eight, Alexandr Predke of Russia introduced an amazing novelty in the King's Indian Defence sacrificing his queen for two minor pieces a pawn against Nodirbek Yakubboev. The Russian is on two points and he will be playing Alireza Firouzja who had some serious problems with Black against Dariusz Swiercz of the US at some point, but eventually his knights proved stronger than a rook and two connected passers.
On board one 17-year-old Nihal Sarin managed to hold world number two Fabiano Caruana to a draw, despite later saying that he considered his own position to be "completely lost". "I thought there was like 20% chance that I could save this game," Sarin said.
The last game to finish in the second round was that of Latvian Grandmaster Arturs Neiksans who played against England's David Howell. The Queen's Indian Defence was played. On move 24th Neiksans managed to create a passed pawn in the middlegame. For a long time it seemed that Howell was on the brink of defeat but the determined Englishman held his ground and, in the late hours of the evening, forced his opponent to concede to a draw.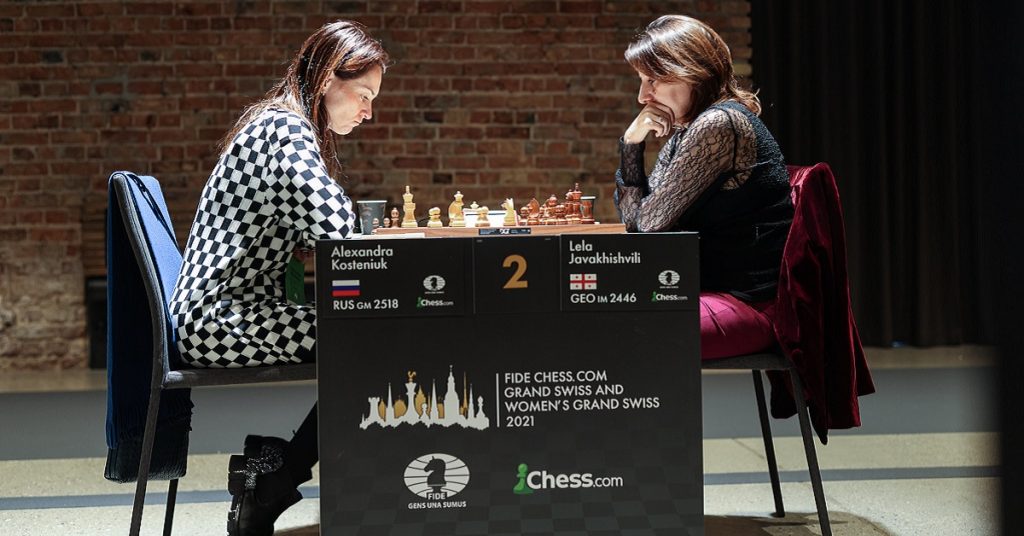 The Women's event
In the Women's event, Nana Dzagnidze demonstrated resourcefulness in an unbalanced position and defeated Iulija Osmak to maintain her lead in the tournament.
On board two Alexandra Kosteniuk – dressed in a black and white squared dress – drew with Lela Javakhishvili, as did Polina Shuvalova against Olga Badelka.
The second top game to end with a decisive outcome was between Lei Tingjie and Ekaterina Atalik. The Chinese prevailed in what might be the wildest game
in the women's tournament with advantage changing hands several times, and now will be facing Elisabeth Paehtz in Round Three after the German was victorious against Leya
Garifullina.
Alongside Dzagnidze and Lei Tingjie, five more female players have a maximum score after the first two rounds.


Round Three
Round Three starts at 3 PM on the 29th of October.
The pairings for the third round for the Open event can be found here: https://chess-results.com/tnr587230.aspx?lan=1&art=2&rd=3&flag=30
The pairings for the third round of the Women's event can be found here: https://chess-results.com/tnr587231.aspx?lan=1&art=2&rd=3&flag=30
For more information about the tournament, please visit: https://grandswiss.fide.com/
Press enquiries: press@fide.com
Article: Milan Dinic
Photo: Mark Livshitz and Anna Shtourman