The International Chess Federation Trainers' Commission seminar started in Riga today. It will last until the 31st of October. It was opened by FIDE Managing Director, Dana Reizniece-Ozola.
"The Trainers' Commission has a very important role in the development of new coaches and methods, to further streamline talent development in chess. The trainers are the backbone of every good player, and FIDE will do everything it can to help improve the position of people involved in chess training on all levels", Reizniece-Ozola said.
GM Ivan Sokolov and GM Artur Yusupov will be giving lectures to trainers.
Topics such as how to design the best training system, as well as game analysis and different training/preparation methods will be discussed.
The event is organised via Zoom, with over 30 trainers taking part.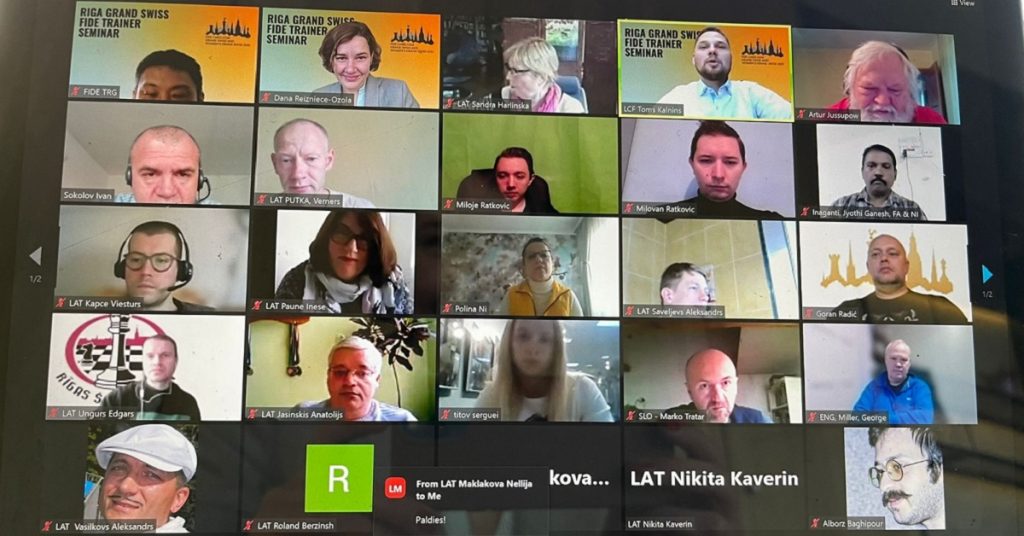 The meeting of the Fair Play Commission
Alongside the Triners' seminar, the FIDE Fair Play Commission had its meeting today. Headed by the President of the Commission, Salomėja Zaksaitė (a woman IM and a criminologist by vocation), the members of the body discussed the current challenges and issues related to cheating in chess.
The fight against cheating is a top priority FIDE as it works hard towards a fraud-free chess community.
The Commission members present at the meeting are: Salomėja Zaksaitė (President), Yuri Garrett (Secretary) and members: Andy Howie, Bojana Bejatovic, Aleksandar Colovic and Klaus Deventer. They were also joined by Dana Reizniece-Ozola, FIDE Managing Director.